---

El director tailandés Apichatpong Weerasethakul, recibirá un tributo en la próxima edición del FICCI

El 57 Festival Internacional de Cine de Cartagena de Indias rendirá tributo al multipremiado director asiático, ganador en 2010 de la Palma de Oro en el Festival de Cannes En su obra, a partir de narrativas habitualmente no lineales y con un fuerte sentido de la dislocación, se ocupa de la memoria de su país, abordando con lirismo cuestiones políticas y sociales. Apichatpong Weerasethakul, que ha hecho posible un cine de lo imposible, íntimamente ligado a las artes visuales, gracias a Kick the Machine y Revista Kinetoscopio, estará en Cartagena del 1 al 6 de marzo, para presentar siete largometrajes, tres de sus cortos, una instalación y realizar un Master Class en el Salón FICCI. Será un emotivo homenaje y agradecimiento del FICCI a un director que ha reinventado el cine y sus posibilidades poéticas y expresivas desde un lugar ajeno a los centros tradicionales y dando aliento a voces sumergidas por el colonialismo, las tragedias históricas y la racionalidad.

En las películas de Apichatpong Weerasethakul la más cruda realidad, la fantasía más inspirada, los sueños, las pesadillas y los fantasmas conviven en un mismo espacio narrativo, bajo las propias reglas del director pero con una indudable conexión con la cultura que lo nutre. Promotor del cine más arriesgado e independiente, a través de su compañía Kick the Machine, en sus películas experimenta con elementos tomados de las estructuras dramáticas de los programas de radio y televisión de su país, así como de los cómics y el cine antiguo. Sus historias se inspiran en las formas de vida y valores culturales y espirituales de los pequeños pueblos de su país, y utiliza en muchas ocasiones actores naturales y diálogos improvisados para explorar los límites entre la ficción y el documental.

Su primer largometraje, Mysterious Object at Noon (Dofka Nai Meuman, 2000), mezcla de documental y ficción, fue exhibido y premiado en múltiples festivales del mundo, e incluso fue elegida por las revistas especializadas Film Comment y The Village Voice como una de las mejores películas del año 2000. Blissfully Yours (Sud sanaeha, 2002), una historia de amor en medio de la selva que termina en desastre, fue ganadora en la sección Una Cierta Mirada del Festival de Cannes. En The Adventures of Iron Pussy (Huajai Toranong, 2003), una bella heroína resuelve crímenes para el gobierno tailandés, a pesar de que éste la suele considerar indecente por su apoyo público a la industria del sexo; en su última misión, la protagonista no solo descubre actividades ilegales, sino también su pasado y su primer amor.

Tropical Malady (Sud Pralad, 2004), ganadora del Premio del Jurado en Cannes, es un canto a la belleza del ser humano y al poder de los recuerdos y la imaginación, a través de la experiencia de un soldado que va, solo, al corazón de la selva, donde las leyendas locales dicen que los humanos pueden ser transformados en otras criaturas. Syndromes and a Century (Sang Sattawat, 2006), primera película tailandesa en la competencia del Festival de Venecia, se estructura en dos partes que hacen eco la una de la otra, con dos personajes que están inspirados en los propios padres del director.

Con Uncle Boonmee Who Can Recall His Past Lives (Lung Boonmee Raluek Chat, 2010), se consagró en Cannes al recibir la Palma de Oro de ese año, presentando a un anciano moribundo que ha elegido pasar sus últimos días rodeado de sus seres queridos en el campo, donde el fantasma de su difunta esposa parece cuidarlo, y su hijo perdido hace mucho tiempo vuelve a casa en una forma no-humana.

Cierra la muestra de largometrajes Cemetery of Splendour (Rak Ti Khon Kaen, 2015), película en la que una joven médium, enamorada de un soldado durmiente, es capaz de penetrar en sus sueños y unos doctores que quieren reanimar al grupo de soldados inconscientes con distintas composiciones de luz, nos transportan al mundo espiritual y afectivo del director.

Por último se presentarán los cortometrajes Empire (2010), Ashes (2012) y Mobile Men, segmento que hace parte del film colectivo Stories on Human Rights (2008) y la instalación Fireworks (2015), con la que el director tailandés aborda otro lenguaje y nuevos espacios para darle cauce a sus obsesiones. Esta instalación es descrita así por Weerasethakul: "Un espacio que acoge un ritual donde la gente se reúne simplemente para disfrutar de la luz. Es la forma más primitiva de cine cuando las historias fueron imaginadas en una fogata. El trabajo es un reflejo de mi 'hogar' en Mae Rim, Chiang Mai, Tailandia. El lugar está rodeado de insectos, calor y humo durante marzo. También está junto al campamento del ejército. Desde el golpe de Estado de mayo de 2014, la junta militar ha silenciado a los críticos por la fuerza y la intimidación. Las calles están libres de manifestantes".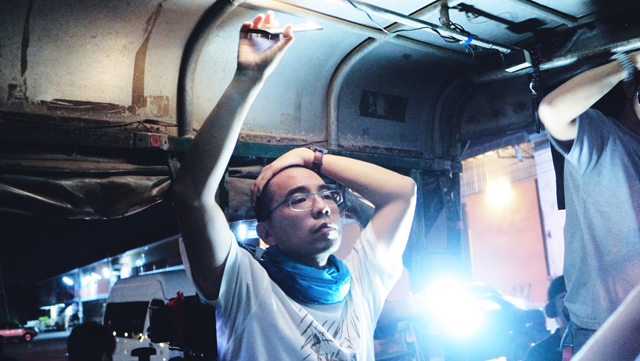 Thai film director Apichatpong Weerasethakul will receive a special tribute in the upcoming edition of the FICCI

The 57th Cartagena de Indias International Film Festival will pay tribute to the Asian director who won the Palme d'Or at the 2010 Cannes Festival, among many other awards. His work, usually based on non-linear narratives and a strong sense of dislocation, deals with the memory of his country and approaches political and social issues in a lyrical way. Apichatpong Weerasethakul, the filmmaker of the impossible whose films are intimately connected to visual arts, will be in Cartagena between the 1st and 6th of March thanks to the support of Kick the Machine and Kinetoscopio Magazine. He will present seven films, three shorts, an installation and will give a master class in the Salón FICCI. The FICCI wishes to pay a heartfelt homage and express its gratitude to a director who reinvented film and its poetic and expressive possibilities, away from the traditional hubs, and gave a voice to those silenced by colonialism, historical tragedies and rationality.

The films of Apichatpong Weerasethakul bring together the most inspired fantasy, dreams, nightmares and ghosts into a same narrative space, following the director's own rules but with an undeniable connection to the culture he thrives on. Through his company, Kick the Machine, he promotes a daringly independent kind of films and, in his own work, he uses elements taken from the dramatic structures of his country's radio and TV shows as well as from comics and old movies. His stories are inspired by the ways of life and the cultural and spiritual values of the small villages of his country, and he often works with non-professional actors and improvised dialogues in order to explore the limits between documentary and fiction.

In 2000, he completed his first feature, Mysterious Object at Noon (Dofka Nai Meuman), a documentary that has been screened at many international festivals and received enthusiastic reviews and awards as well as being listed among the best films of the year 2000 by Film Comment and the Village Voice. Blissfully Yours (Sud sanaeha, 2002), a love story that unfolds in the middle of the jungle and ends in a disaster, won the Un Certain Regard award in Cannes. In The Adventures of Iron Pussy (Huajai Toranong, 2003), a beautiful heroin solves crimes for the Thai government who deems her indecent due to her public support of the sex industry. In her last mission, the protagonist will not only uncover illegal activities but also discover her past and her first love.

Tropical Malady (Sud Pralad, 2004), winner of the Jury Prize in Cannes, is a hymn to the beauty of human beings and to the power of memories and imagination, told through the experience of a lone soldier who wanders into the heart of the jungle where local legends say that humans can be transformed into other creatures. Syndromes and a Century (Sang Sattawat, 2006), the first Thai movie ever included in the selection of the Venice Film Festival, is structured in two parts that echo each other through two characters inspired by the director's parents.

With Uncle Boonmee Who Can Recall His Past Lives - (Lung Boonmee Raluek Chat, 2010), he was awarded the Palme d'Or in Cannes. The film tells the story of a dying old man who decides to spend his last days surrounded by his loved ones in the countryside, where the ghost of his late wife appears to watch over him and his long-lost son comes back home in a non-human form.

The selection will also include Cemetery of Splendour (Rak Ti Khon Kaen, 2015), a film in which a young medium in love with a sleeping soldier is able to enter his dreams, and a team of doctors wants to revive a group of unconscious soldiers using different light compositions, transporting us into the director's spiritual and emotional world.

Lastly, the short films Empire (2010), Ashes (2012) and Mobile Men (a section of the collective film Stories on Human Rights - 2008) will be presented, as well as the installation Fireworks (2015), through which the director explores another language and new spaces to channel his emotions. In Weerasethakul's own words, the installation is "a space that hosts a ritual where people simply gather to enjoy the light. It is the most primitive form of film, when stories were imagined around a fire. This work is a reflection of my 'home' in Mae Rin, Chiang Mai, Thailand. In March, the place is full of insects, heat and smoke. It is also next to the the army camp. Since the coup in May 2014, the military junta has silenced its critics through force and intimidation. The streets are free of demonstrators."