---

La guerra y la paz, en el FICCI 57

El Festival Internacional de Cine de Cartagena de Indias –FICCI– vive el momento histórico que atraviesa Colombia a través del Programa Especial LA GUERRA Y LA PAZ. Con una selección de ocho largometrajes y cuatro cortos que se enfocan en conflictos armados y procesos de reconciliación alrededor del mundo, este Programa apunta a incentivar en el público una mayor comprensión y una reflexión mejor informada sobre la guerra y la paz.

En los constantes conflictos que ha sufrido la humanidad, la imagen y el sonido han tenido la responsabilidad de servir como registro y testimonio de lo sucedido, denunciando atrocidades con la esperanza de que nunca se repitan y mostrando la forma como la guerra afecta de raíz la vida de las personas. Por el contrario, las negociaciones para lograr el fin de las guerras, con todo lo que ponen en juego, no se han difundido de manera tan amplia.

Como parte del Programa Especial se presentarán los largometrajes documentales El Fin de ETA (2017) de Justin Webster, producción española que registra el proceso de una década que culminó con la dejación de las armas de este grupo terrorista; el estadounidense, nominado al Oscar en 2001, Long Night's Journey Into Day (2000) de Deborah Hoffmann y Frances Reid, que relata cuatro historias del apartheid sudafricano vistas a través de la Comisión de Verdad y Reconciliación; A Syrian Love Story (Reino Unido, Francia, Siria, 2015) de Sean McAllister, nominado a un Premio BAFTA, nos presenta una visión de la primavera árabe y los conflictos en Siria a través de la historia de una pareja; en Nueve Disparos (2017), el sargento de la Armada Nacional Jorge Giraldo, después de sufrir un atentado a causa de su trabajo, realiza un auto-retrato personal y familiar de madres e hijos afectados por la realidad colombiana; Lecciones para una Guerra (México, Guatemala; 2011) de Juan Manuel Sepúlveda, celebra la resistencia de los pueblos indígenas que han sobrevivido al genocidio perpetrado por los gobiernos guatemaltecos, al tiempo que se preparan para seguir enfrentando y sobreviviendo a nuevas guerras; y Depth Two (Serbia, Montenegro; 2016), producción que indaga sobre la historia detrás de las múltiples fosas comunes descubiertas en los suburbios de Belgrado en 2001, durante la guerra de Kosovo.

Dentro de la programación se presentarán los largometrajes de ficción Bloody Sunday (Reino Unido, Irlanda; 2002) de Paul Greengrass, ganador del Oso de Oro y del Premio del Jurado Ecuménico del Festival de Berlín en 2002, que describe con acento documental la protesta por los derechos civiles irlandeses que culminó en una sangrienta masacre, un domingo de 1972; y Días de Santiago (Perú, Holanda; 2004) de Josué Méndez, sobre la vida de un soldado después de la guerra que enfrentó al Estado y la guerrilla en Perú, y que mereció el Premio de la Crítica y el Premio a Mejor Actor del Festival de Cine de Lima, entre otros.

El especial LA GUERRA Y LA PAZ cierra con cuatro cortometrajes colombianos que brindarán al público diferentes perspectivas del conflicto y la reconciliación. La Impresión de una Guerra (2015) de Camilo Restrepo, ganador como mejor cortometraje en el FICCI 56, que muestra, en una narrativa de múltiples capas y escrituras, las marcas de la violencia en Colombia; con Guerra y Pa (2001), el artista plástico Juan Manuel Echavarría pone en escena, a través de dos loros entrenados, la tragicomedia de la política colombiana luego de una de las fracasadas negociaciones de paz; Parábola del Retorno (2016) de Juan Soto, acompaña el retorno de un exiliado colombiano en Londres, que 30 años después intenta reencontrar a su familia; y Resistencia en Paz (2017) de Edison Sánchez, sigue la reconstrucción y reinterpretación que un sobreviviente hace de la tragedia de Bojayá.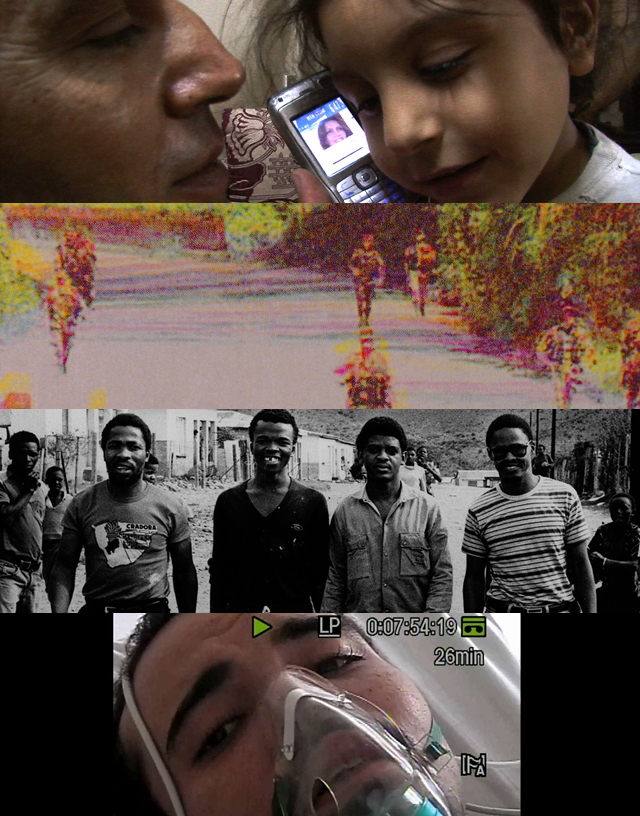 War and Peace at FICCI 57

Colombia is living an importante moment in its history, and the Cartagena de Indias International Film Festival (FICCI) is showing that moment through its Special Program, WAR AND PEACE. The Program, which features eight feature-length films and four short films that focus specifically on armed conflicts and reconciliation processes around the world, seeks to raise public awareness and foster a better understanding of war and peace.

During the constant conflicts experienced by humanity, image and sound have had the responsibility of recording and witnessing what has happened. They have denounced atrocities with the hopes that these things never happen again, and they have shown how war can affect people to their very core. Conversely, the negotiations that put an end to these wars, and everything that they risk, have not been documented as thoroughly.

The following feature-length documentaries will be presented as part of the Special Program: The End of ETA (El Fin de ETA – 2017), by Justin Webster, a Spanish production that documents the decade that ended with the ETA's decommissioning of arms; Long Night's Journey Into Day (2000) by Americans Deborah Hoffmann and Frances Reid, which tells four stories of the South African apartheid as seen through the Truth and Reconciliation Commission; A Syrian Love Story (United Kingdom, France, Syria, 2015) by Sean McAllister, nominated for a BAFTA award, brings us a vision of the Arab Spring and the Syrian conflict through the eyes of a couple; in Nine Shots (Nueve Disparos - 2017), National Navy Sergeant Jorge Giraldo, after surviving an assassination attempt because of his work, creates a personal and familiar self-portrait of mothers and children affected by the realities of Colombia; Lessons for a War (Lecciones para una Guerra – Mexico, Guatemala, 2011), by Juan Manuel Sepúlveda, celebrates the resilience of indigenous peoples who have survived the genocide perpetrated by the Guatemalan government, and who are still facing and surviving new wars; and Depth Two (Serbia, Montenegro, 2016), a production that looks into the story behind the multiple mass graves discovered in the suburbs of Belgrade in 2001, during the Kosovo War.

The following feature-length fiction films will be shown during the program: Bloody Sunday (United Kingdom, Ireland, 2001) by Paul Greengrass, winner of the Golden Bear and the Ecumenical Jury Prize at the Berlin Festival in 2002, a documentary-like film about the Irish civil rights protest that ended in a bloody massacre on a Sunday in 1972; and Days of Santiago (Días de Santiago - Peru, Netherlands, 2004) by Josué Méndez, about the life of a soldier after the war that was fought between the State and guerrilla forces in Peru, which won the Critics' Award and the Award for Best Actor at the Lima Film Festival, among others.

The WAR AND PEACE Special Program will close with four Colombian short films that will show the public different perspectives on conflict and reconciliation. Impression of a War (La Impresión de una guerra – 2015) by Camilo Restrepo, winner of the Best Short Film award at FICCI 56, uses a multi-layered narrative to show the marks that violence has left on Colombia; in Guerra y Pa (2001), by artist Juan Manuel Echavarría, two trained parrots are used to lampoon the tragicomedy of Colombian politics after the failed peace talks from back then; Parábola del Retorno (2016) by Juan Soto follows the return of Colombian exile in London who is trying to find his family 30 years later; and Resistencia en Paz (2017) by Edison Sánchez, follows a survivor's reconstruction and reinterpretation of the tragedy of Bojayá.