---

Galas, Cine bajo las estrellas y Cine de medianoche: Tres secciones con tres miradas diferentes

Una selección de largometrajes de diferentes procedencias y géneros, hacen parte de estas tres secciones no competitivas del FICCI 57, que nos harán revivir desde los clásicos del cine hasta sorprendernos con arriesgadas y atrevidas propuestas bajo el cielo estrellado y las calles del centro histórico cartagenero como telón de fondo. Un estreno mundial, uno latinoamericano y siete estrenos en Colombia, representan la esencia del #FICCItetoca.

Cine bajo las estrellas

Con Cine bajo las estrellas, Cartagena se convierte en una inmensa sala de cine al aire libre. Gracias al patrocinio de EPM, RCN Radio Televisión, Bigvideo TV, la Gobernación del Bolívar y su Instituto de Cultura y Turismo –Icultur-, las calles y plazas del centro histórico se convierten en el escenario de la proyección de películas para todos los asistentes al festival.

Será la oportunidad de disfrutar del estreno en Colombia de Bellas de Noche (México) de María José Cuevas, el retrato de cinco vedetes de los años 70 y 80, que reflexionan sobre su fama 30 años después. En la Plaza de Banderas del Centro de Convenciones se podrán ver El Ciudadano Ilustre (Argentina, España) de los directores Gastón Duprat y Mariano Cohn, donde acompañamos el regreso del Nobel de literatura, Daniel Montavari, a su pueblo natal, un lugar donde la gente parece no quererlo mucho; Jackie (Chile, Francia, Estados Unidos, Hong Kong) del chileno Pablo Larraín, nos presenta a Natalie Portman interpretando el lado más humano de la esposa de John F. Kennedy, en los días posteriores a su asesinato; Silence (Estados Unidos, Taiwán, México) del prolífico Martin Scorsese, quien en esta ocasión reconstruye la persecución a los cristianos en el Japón del siglo XVII; y para cerrar el grupo de películas al aire libre, Jour de Fête de Jacques Tati, la película que inaugura el ciclo de clásicos franceses que se presentará a lo largo del año en Colombia, es un viaje a la Francia profunda de la posguerra, con el humor del que es considerado por muchos, el genio francés de la comedia.

Bajo las estrellas se presentará también el ciclo de Film Noir francés, una selección de siete películas que proponen una genealogía de este género cinematográfico, los intercambios fecundos con el cine norteamericano y sus transformaciones y evoluciones a lo largo de varias décadas. El ciclo se llevará a cabo en la Plaza de la Proclamación y empieza con La Bête humaine (La Bestia Humana) de Jean Renoir, y Pépé le Moko de Julien Duvivier, ambas de los años treinta, que dan origen al Noir en una convulsa época para la sociedad francesa; continúa con Les Diaboliques (Las Diabólicas) de Henri-Georges Clouzot y Plein Soleil (A pleno sol) de René Clement, de los años cincuenta, y termina con las revolucionarias propuestas vanguardistas de Ascenseur Pour l'echafaud (Ascensor para el Cadalso) de Louis Malle y À Bout de Soufflé (Sin Aliento) de Jean-Luc Godard, y con el giro nostálgico de François Truffaut en Vivement dimanche! (Confidencialmente Tuya). Este apasionante Programa Especial hace parte de las actividades del Año Colombia Francia 2017 y es posible gracias al apoyo de la Embajada de Francia y el Institut Français.

Galas

Las Galas son presentaciones especiales de películas de gran valor para la audiencia. Totalmente restaurada y a medio siglo de su estreno, Memorias del Subdesarrollo (1968) de Tomás Gutiérrez Alea, sigue mereciendo su sitio como una de las obras maestras del cine latinoamericano, muestra el autoexilio de un burgués que no se reconoce en el naciente proceso revolucionario de la isla. Antes de su estreno comercial en Colombia, se podrá apreciar la nueva versión de La Bella y La Bestia (Estados Unidos), dirigida por Bill Condon, el relato tradicional de la doncella que rompe el hechizo de Bestia y lo convierte en un apuesto príncipe. Una historia "tan antigua como el mundo" que tuvo su primera versión hace varios siglos y que en nuestra época tenemos presente gracias al clásico animado de Disney de 1991. Santa y Andrés, dirigida por el cubano Carlos Lechuga, es la historia de un escritor homosexual confinado al ostracismo y vigilado por una joven que, sin conocer más que el pensamiento revolucionario, empieza a descubrir la humanidad de ese cautivo, más allá de su "desviación".

Cine de medianoche

Cine de Medianoche reconoce los rostros –subterráneos– del deseo, el continente oscuro del inconsciente, lo oculto, lo tradicionalmente sumergido y avergonzado. Aquí está un grupo de películas que dan más que una voz, que asestan un golpe de luz a todo lo que camina a tientas. Un cine sin género que funda un lugar para escapar de los tópicos, los tabúes y los prejuicios. Películas para los más atrevidos.

El Ornitólogo (Portugal, Francia, Brasil) de João Pedro Rodrigues, ganadora del premio a Mejor Director en el Festival de Cine de Locarno, a través de la cual el director deconstruye en su protagonista, una parte vital de la cultura lusa como es el venerado san Antonio, con una estructura narrativa cargada de erotismo y de múltiples significados simbólicos. La Noche (Argentina), ópera prima del actor argentino Edgardo Castro, nos presenta el recorrido de unos seres cargados de sensibilidad y deseo de conectarse con otros, a través de una especie de poética de lo turbio, un descenso a los infiernos en los que habitan personajes tristes pero sobre todo, solitarios. Finalmente, se encuentra el reciente largometraje del director mexicano Amat Escalante, La Región Salvaje, una perturbadora narración protagonizada por personajes que huyen de la rutina y buscan, en un bosque, la respuesta a todas sus insatisfacciones.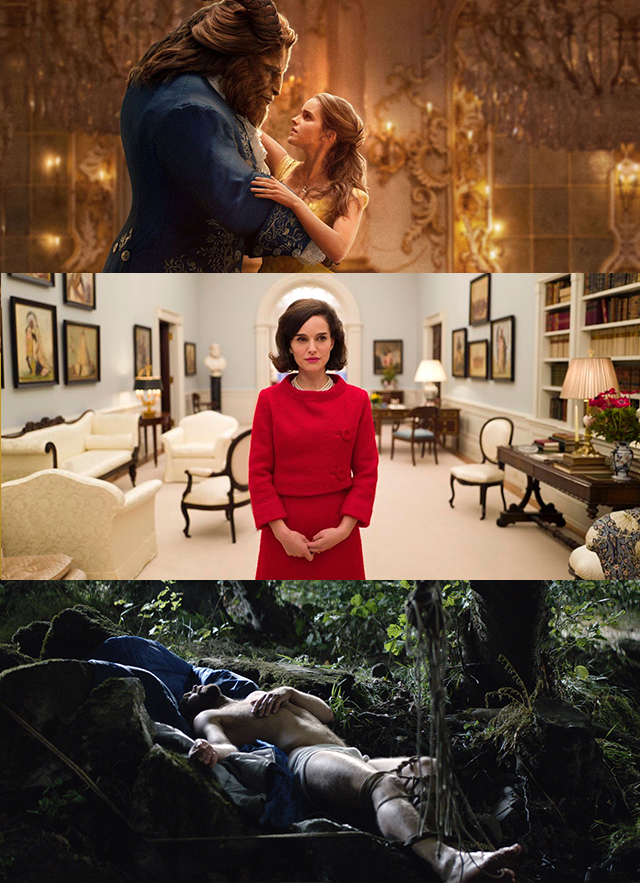 Galas, Cinema Under the Stars and Midnight Cinema: Three sections with three different perspectives

A selection of full-length films representing different genres and different regions are the center of these three non-competitive sections at FICCI 57. These films will take us back to classic film and then leave us surprised by incendiary and provocative productions under the starry sky and with the streets of Cartagena's historical center setting the stage. The essence of #FICCItetoca, these sections feature one World premiere, one Latin American premiere and seven Colombian premieres.

Cinema Under the Stars

With Cinema Under the Stars, Cartagena becomes one giant outdoor theatre. Thanks to the sponsorship of RCN Radio Televisión, Bigvideo TV, the governmental administration of Bolívar and its Culture and Tourism Institute (Icultur), the streets and plazas of the city's historical center paint the stage for films to be shown to all those attending the festival.

This is an opportunity to enjoy the premiere of Beauties by the Night (Bellas de Noche) in Colombia. This Mexican film by María José Cuevas portrays five showgirls from the 70s and 80s that reflect upon their fame 30 years later.

At the Convention Center's Plaza de Banderas, the following films will be shown.  Directed by Gastón Duprat and Mariano Cohn, The Distinguished Citizen (El Ciudadano Ilustre; Argentina, Spain) will take us on Daniel Montavari's journey back to his hometown, after winning the Nobel Prize for Literature, where it appears he is not very welcome. Jackie (Chile, France, United States, Hong Kong), by Chile's Pablo Larraín, features Natalie Portman's performance of the more human side of John F. Kennedy's wife in the days following his assassination. Silence (United States, Taiwan, Mexico) by the prolific Martin Scorsese, reenacts the persecution of Christians in Japan in the 17th century. This cycle of outdoor movies closes with The Big Day (Jour de Fête) by Jacques Tati, the opening film of the cycle of French classic films that will be featured in Colombia throughout the year. The film goes back through the depths of post-war France with the humor of who, considered by many, is the French mastermind of comedy.

A cycle of French film noir movies will also be featured at this event. This selection of seven films acts as a genealogical review of this genre, features its constructive exchanges with North American cinema and reflects how it transformed and progressed over the span of several decades. This cycle will take place at the Plaza de la Proclamación and begins with The Human Beast (La Bête humaine) by Jean Renoir,and Pépé le Mokoby Julien Duvivier. Both films are from the thirties and gave rise to film noir during a turbulent era in French society. The cycle continues with Diabolique (Les Diaboliques) by Henri-Georges Clouzot and Purple Noon (Plein Soleil)by René Clement, both from the fifties. It ends with the revolutionary vanguard propositions of Elevator to the Gallows (Ascenseur Pour l'echafaud)by Louis Malle, Breathless (À Bout de Souffle) by Jean-Luc Godard, and the nostalgic style of François Truffaut in Confidentially Yours (Vivement dimanche!).This exciting Special Program is part of the activities of the 2017 France-Colombia Year and has been made possible through the support of the French Embassy and the Institut Français.

Galas
The Galas section includes special film screenings, featuring topics that are important for the audience. Completely restored and a half-century after its premier, Memories of Underdevelopment (Memorias del Subdesarrollo, 1968) by Tomás Gutiérrez Alea, continues to be worthy of its recognition as one of the masterpieces of Latin American film. The film reveals the self-exile process of a bourgeois individual who does not identify with the rising revolutionary movement in Cuba. Prior to its commercial screening in Colombia, the new version of Beauty and the Beast (United States) can be viewed. Directed by Bill Condon, this is the traditional story of a young woman who breaks the spell of the Beast, making him into a handsome prince. This is a story "as old as the world itself," which first appeared several centuries ago and which has resurrected as a result of the classic 1991 Disney cartoon. Santa & Andrés, directed by Carlos Lechuga of Cuba, is the story of an ostracized homosexual writer held as prisoner and guarded by a young woman who, knowing nothing other than revolutionary thought, begins to discover the humanity of this man beyond his "deviation."

Midnight Cinema

Midnight Cinema brings to life the underground faces of desire, the dark world of the unconscious, the hidden, and what is traditionally buried and shamed. This group of films offers more than one voice and shines a light on everything that lives in the dark. This cinema falls under no specific genre and serves as a place to escape from clichés, taboos and preconceptions. Films for the most venturesome.

The Ornithologist (O Ornitologo; Portugal, France, Brazil) by João Pedro Rodrigues, won Best Director at the Locarno Film Festival. Through his protagonist, the director deconstructs a vital part of Portuguese culture paralleling the life of the venerated Saint Anthony through a narrative structure loaded with eroticism and several symbolic meanings. The Night (La Noche, Argentina), the debut feature of Argentine actor Edgardo Castro, takes us through a journey of beings loaded with sensitivity and the deep desire to connect with others. In a sort of turbid, poetic way, the film descends into an underworld of sadness and, more than anything, loneliness. Last is the recent full-length film of Mexican director, Amat Escalante, The Untamed (La Región Salvaje). The perturbing narration of this film features characters that flee from routine and, in the heart of a forest, seek the answers to their need for satisfaction.