#PuroVoltajeFICCI58 con el actor Owen Wilson
como invitado especial

Reconocido principalmente como uno de los actores de comedia más destacados de Hollywood, con más de 70 películas. Más allá de su talante como comediante, ha participado en producciones en que ha brillado como actor dramático en títulos que pasan por distintos géneros y tonos, desde la intriga y la aventura hasta el romance. Su versátil talento ha sido reconocido con una nominación al Oscar por el guion de Los Excéntricos Tenenbaums (2001), coescrito junto al director Wes Anderson, con quien mantiene una constante colaboración desde la incursión de ambos en el mundo del cine con el cortometraje Bottle Rocket (1994). Owen Wilson estará en Cartagena compartiendo sus experiencias dentro de las actividades del Salón FICCI.


Owen Wilson creció en Dallas (Texas), en Estados Unidos. Hijo de un ejecutivo de alto nivel y una fotógrafa profesional, estudió en una academia militar de Nuevo México, tras haber sido expulsado de su anterior colegio. Entró a la Universidad de Austin, donde se hizo amigo del futuro director de cine Wes Anderson, quien se convirtió en una especie de mentor para él. Juntos escribieron el guion de Bottle Rocket (1994), cortometraje que les abrió las puertas de Hollywood con el productor James L. Brooks, para luego comenzar una prolífica carrera en la industria del cine.

Esta dupla posteriormente le daría vida a los guiones de Ladrón que roba a otro ladrón (1996), largometraje basado en su primer cortometraje; Academia Rushmore (1998), que obtendría una nominación a los Globos de Oro por el papel secundario interpretado por Bill Murray; y Los Excéntricos Tenenbaums (2001). Bajo la dirección de Wes Anderson, además de los anteriores títulos, Wilson también ha participado como actor en Life Aquatic (2004), Viaje a Darjeeling (2007) y El Gran Hotel Budapest (2015), y fue una de las voces de Fantastic Mr. Fox (2009).

También son famosas sus apariciones junto a Ben Stiller en Starsky & Hutch, Little Fockers y Zoolander y en la trilogía de Una noche en el museo. Wilson y Stiller se han convertido en una de las duplas de comedia favoritas de Hollywood.

Owen Wilson también ha demostrado que puede ser un actor capaz de moverse en terrenos distintos a la comedia. Inmortalizó al Rayo McQueen en la trilogía Cars; es el protagonista de Medianoche en París de Woody Allen, en la que encarna a un frustrado guionista que viaja en el tiempo y se encuentra con grandes escritores y artistas de la década de 1920 a quienes  admira. Ha hecho parte de proyectos como No Escape de John Erick Dowdle, un filme de acción en el que Wilson se transforma en un padre de familia que busca nuevas oportunidades laborales en un país del sudeste asiático, donde él y sus hijos quedan atrapados en medio de un golpe de Estado. En 2017 se convirtió en el esposo de la actriz Julia Roberts en la comedia dramática Wonder de Stephen Chbosky, una adaptación de la novela escrita por R. J. Palacio, sobre un niño que sufre de malformaciones faciales que busca integrarse al colegio.

No se pierda la oportunidad de conocer más sobre la trayectoria de Owen Wilson y su manera de abordar el amplio espectro de personajes que ha interpretado en su visita al #PuroVoltajeFICCI58.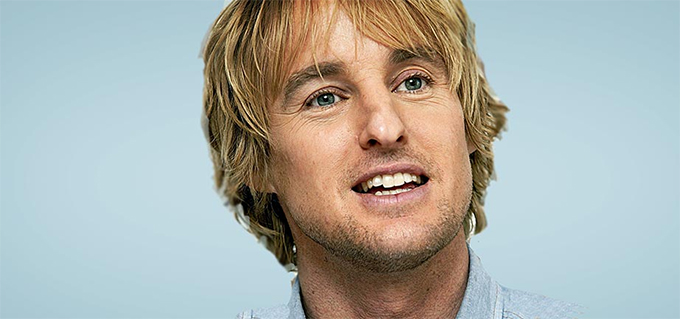 Owen Wilson will be the Special Guest of #PuroVoltajeFICCI58

Known primarily as one of Hollywood's most outstanding comedy actors, with more than 70 films, besides his talent as a comedian, he has also shone as a dramatic actor in films of different styles and genres, from thriller and adventure to romance. His versatile talent has been awarded with an Academy Award nomination for the screenplay of The Royal Tenenbaums (2001), which he co-wrote with director Wes Anderson, with whom he maintains a constant collaboration ever since they got their start in the film industry with the short-film Bottle Rocket (1994). Owen Wilson will be in Cartagena sharing his experiences in the activities of Salón FICCI.

Owen Wilson was born in Dallas, Texas, in the United States. Son of an executive and a professional photographer, he studied in a military academy in New Mexico, having been expelled from his previous school. He went to University of Austin, where he became friends with the future film director Wes Anderson, who became his sort of mentor. Together they wrote the screenplay for Bottle Rocket (1994), a short-film produced by James L. Brooks which launched their prolific careers in Hollywood.

This duo would later bring into being the screenplays of Bottle Rocket (1996), a feature film based on their first short-film; Rushmore Academy (1998), which would be nominated to the Golden Globes for Best Supporting Role for Bill Murray; and The Royal Tenenbaums (2001). Besides these titles, Wilson has also worked under Wes Anderson's direction as an actor in The Life Aquatic (2004), The Darjeeling Limited (2007), and Grand Budapest Hotel (2014), and was one of the voices in Fantastic Mr. Fox (2009).

He is also known for having appeared with Ben Stiller in Starsky & Hutch (2004), Little Fockers (2010) and Zoolander (2001), and in the trilogy A Night at the Museum. Wilson and Stiller have become one of Hollywood's best comedy duos.

Owen Wilson has also shown his acting skills outside of comedy. He immortalized Ray McQueen in the trilogy Cars, and was the protagonist in Woody Allen's Midnight in Paris (2011) in which he plays the role of a frustrated screenwriter who time travels and finds great writers and artists of the 1920s whom he admires. He also appeared in No Escape (2015) by John Erick Dowdle, an action film in which Wilson becomes a father who looks for new job opportunities in South East Asia, where he and his sons get caught in the middle of a coup d'état. In 2017 he played Julia Roberts's husband in the tragicomedy Wonder (2017) by Stephen Chbosky, adapted from the novel by R.J Palacia, about a boy suffering from facial deformities who seeks to integrate into school.

Do not miss this opportunity to know more about Owen Wilson's trajectory and his way of approaching the wide range of characters he has played, as he visits #PuroVoltajeFICCI58.